Crimson Recon
Hello everyone!
Phew, we might've been silent for some time, but we sure haven't been doing nothing! Last month was all about Reboot Develop Blue, traveling to beautiful Croatia to attend our first convention ever, meeting some incredibly talented developers as well as meeting a few of our personal heroes as well, and ofcourse, showing off the game for the first time in public!
But oh boy, where should we begin? To start off, we'll go ahead and name this first blog The Road To Reboot, and go over Reboot itself in a follow-up blog. This one is a prequel blog.
That having said, the weeks before Reboot were, of course, incredibly hectic. We had no idea what to expect at Reboot so we wanted the playable demo to be perfect. Ideas for the game started spiking through the roof, and naturally, we had to implement all of these into the demo júúúst before Reboot. Considering we wanted to completely clear our minds and deetox ourselves of "the resonance" for the first few days in Croatia, that was a risky move. And ofcourse, led to a few days developing the last bits of demo in our hotel room. It was all worthwhile in the end though, and as the weather could've been better at the time, we didn't mind at all.
So for the people who don't know Reboot Develop Blue, this convention is based near the beautiful old city of Dubrovnik (that's King's Landing for all GoT fans out there). While we actually got dropped off there straight after arriving the airport, a certain lack of sleep combined with a slightly tasteless Strüdel made it difficult for us to completely capturize why we were there; it's because we're making a game and we actually get to promote it in Croatia of all places! So we bought our first Ozujskos, stretched out our legs and relaxed at the shore.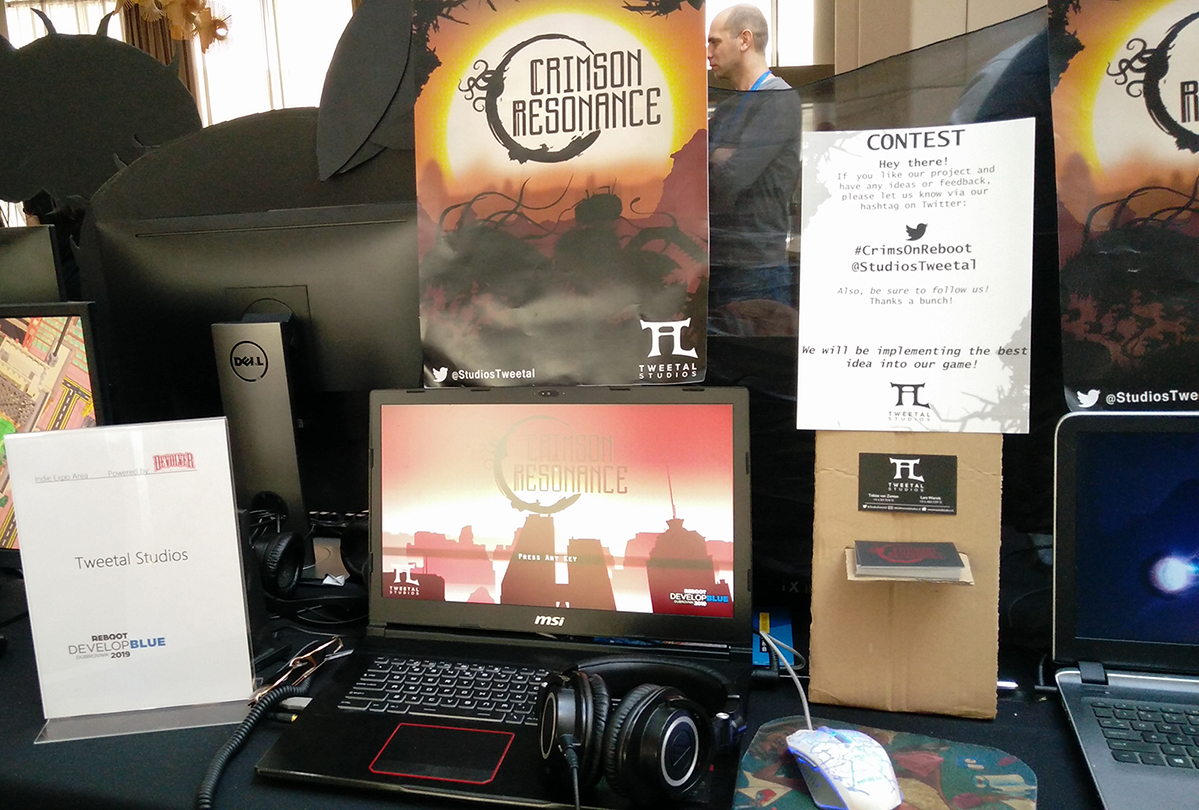 We didn't come unprepared for some Reboot action. Equipped with shirts containing the game's logo on the front and studio logo on the back, posters of the game and a box containing our glossy, shiny, freshly printed and pokémon card smelling business cards, we made sure to throw our logos all over the place.
On the second day, we received a mail about our submission for the Indie Awards at Reboot. We got accepted! That was great news worthy of a couple more Ouzjeskos and, of course, more development on the demo. This also meant that we had to pitch the game at a dedicated pitching session in front of a jury, publishers and investors. A huge chance for sure! We did a couple more rain dances in front of our hotel and shortly after, we were blessed with the rains that forced us to sit inside and continue the development of the demo.
In the evening of wednesday we travelled to our hotel, which was a ten minute beach-side walk from the conference site. Once in our room, we finished up the demo for reals, and attempted once again to get a decent amount of sleep before the three intensive days on Reboot.
That concludes the first part of our TRILOGY of blogs, so be sure to stick around for part 2 where Tobias explains all the stuff that happened at Reboot!
-Meneer Guus, Tweetal Studios
Also, we had a hard time getting some black filter coffee going on at the local places. In a total of six times, we received a wrong order of coffee. For now, we can look back and laugh, but dang that was a serious problem back then.